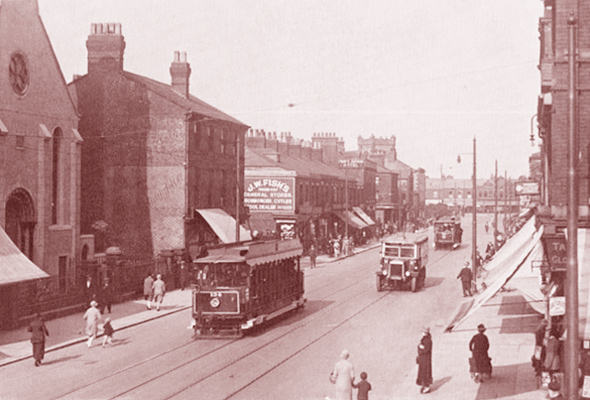 The changing face of Lord Street throughout the 20th Century
Posted Wednesday 11th June 2014
by Bill Curtis
Lord Street was not initially called Lord Street but was called West Street and East Street. It was West Street from Ash Street to Warren Street to Albert Square, and the change was made before the last war.
But when the town was first built this road was not intended to be the main street as it is now. Neither Sir Peter or Decimus Burton incorporated any sort of shopping area or centre in their town plan (neither did they include a graveyard for that matter) but I later found from the Hesketh diaries that Sir Peter did have ideas of making London Street the main street: when completed it was to be like Lord Street in Southport, with high class shops and arcades, and it probably would have looked very nice indeed.
Unfortunately, it was not to be. Probably that is why today we do not have a concentrated shopping centre, but our shops trail out in a long ribbon from the Lighthouse to the end of Poulton Road, and that is not good news either for the shopkeepers or the shoppers.
For many years the best shops and businesses were in Dock Street and Church Street and the main buildings on Lord Street were churches, four of them; the Primitive Methodists, later the Regent Cinema; the Congregation Church, later Marks and Spencers; the Parish Church, which had a spire until 1904; and St. Mary's Church across the road.
One thing we have to thank Decimus Burton for are wide roads, and Lord Street was so wide you needed a packed lunch to cross it. Apart from a very few houses and the churches there were large areas of empty land before the electric tramcar came, and you may be interested to know that although Blackpool had trams a year or two before Fleetwood, it was only a costal service and Fleetwood was the first town in the world to have tramcars running through the streets, and until Manchester's trams reappeared it was the only town in the UK to have trams in the street. At the same time the trams at Fleetwood are a very useful visitor attraction, bringing much trade to the town.
But when the trams came the shops soon followed suit, and it was not long before Lord Street was lined with an assortment of shops, taking the trade away from Dock Street and Church Street, both of which went into a gradual decline. I love the story of the holiday-maker in Fleetwood who, never having ridden on a tram before, asked the conductor of a tram in Lord Street what was the fare to the promenade? The conductor said "From this stage it's fourpence". The man said indignantly, "I'm not paying that, I'll go to the next stage," so he ran like billy-o after the tram to the next stop and still puffing, he gasped, "How much is it now?" "Sixpence," said the conductor smartly, "You're running the wrong way!"
Sadly, the first tram casualty ever was a Fleetwood man, a worshipper from St Mary's who, on leaving the church after the morning service on Sunday, and not being used to trams in the street, was accidentally knocked down and killed.
Before the war the type of shops in Lord Street were typical of the day. Piper's Penny Bazaar and Smyth's Bazaar; White's music shops where you could buy ballads and classical music for the piano, and the piano itself.
The only things Mr White's didn't sell were Des O'Connor records! There were haberdasheries and trimming shops selling millinery supplies for ladies who made their own hats (everyone wore hats before the war), and the forerunners to the supermarkets; Home and Colonial, Argenta, Melias, Maypole etc.
These and more were all in Lord Street and never a hint of an estate agent or insurance broker, although there were some banks, but they were very sedate buildings and the manager's office was always where he could oversee what was going on in the bank and you could see him. I remember the days when bank managers spoke to their customers, but nowadays, you are lucky if you ever get a glimpse of him, much less speak to him.
When the trams first came the standards carrying the cables were down the centre of the road, but later they were moved to the sides, presumably for the sake of traffic.
In the pictures of Lord Street from before the war you will see something which has now completely disappeared – hand-carts. Every shop seemed to have one, for it was a convenient method of delivering customers' orders, usually by an errand boy who may be anything from 10 years old and upwards, earning little more than a few coppers a week. And every shop would undertake to deliver your order, however large or small or however far away, and for no extra payment. Lots of people had hand-carts and they were very useful for many purposes. If the rent hadn't been paid by Thursday, you could load all your goods and chattels onto the hand-cart and be three streets away by the time the rentman arrived!
One thing which always disappeared after the war was the cash transport system in shops. I think if some shops brought it back it would be very popular, for it was more fun than television. The assistant wrote the bill out and you gave her the money, it might be little more than sixpence for some buttons.
The assistant wrapped the money in the bill and reached up to a small metal container suspended above her head, unscrewed it and put the money and the bill inside, screwed it up again and pulled a cord which started the container sailing away over everyones' head to the cashier who was in a little box at the back of the shop and slightly elevated.
The cashier then unscrewed the container, recorded the sale, and put the change and the receipted bill back in the container and returned it to the counter assistant, who then handed the change and the bill back to the customer.
The last shops with this kind of change system as far as I know were Priestley's and the Co-op. But the Co-op had an underground vacuum arrangement, which wasn't as much fun as the overhead system.
Mind you, shops were not self service in those days, you told the shop-assistant what you wanted and she put an assortment on the counter for you to make your choice, and woe betide any assistant who was not pleasant and patient with you, or she soon lost her job.
By Jove, times have certainly changed, haven't they?
But Lord Street did not change so very much during the first half of this century as it did in the second half, and many well known names – and faces – vanished.
One early shop in Lord Street was at the top end near Ash Street and was a sweet shop run by two sisters, Mrs Clancy and Mrs Gill. They later sold the business to Theodore Clegg (of fish and chips shop fame) who renamed the shop The Olde Bacca Shoppe. And on the other side and a little lower down, Mr Williams opened a boot and shoe repairer's next to his pork butcher's shop (later Michelbachs).
The boot and shoe shop was run by the Alban brothers, and later Les Alban opened his own shop in Blakiston Street. Before the war boots and shoes were made of leather and soleing and heeling was a necessary service.
The Co-op shop on Lord Street had a shoe making and repairing department and the work was carried out in the basement, where lasts were kept of most of the town's residents, for most people had their own lasts and could order shoes without further fittings. The mind boggles at the thought of some of the town's old stalwart businessmen or town councillors wearing trainers!
As times and customs have altered Lord Street has reflected all these changes in the last fifty years more, perhaps, than any other part of town. I often wonder what our grandparents would think if they could come back and see today's style of shopping. No personal service weighing things out in grocer's shops.
With everything pre-packaged and frozen foods to fill a freezer you can avoid shopping for days or weeks on end. Children often buy their own clothes and leisure goods, and spend more money in a week than Grandpa earned in a year.
And shops with tempting and attractive goods beg you to buy now and pay later – ah, Utopia, you have arrived at last!
And, of course, the traffic on Lord Street has increased tenfold. Some days it can take quite a few minutes to get across the road, although our London relatives think we are mad when we say that – they say, "You should live in London, then you'd know what traffic is."
But I don't want to live in London and you know what their traffic is, I like ours much better. Mind you, if you look at the pictures of Lord Street in the last century you can see that horse traffic was all the pedestrians had to worry about, and I can remember the days when there were plenty of horse-drawn vehicles about.
In fact, I can remember when kids use to collect horse droppings and sell them to people with gardens. One local kid who acquired a little wooden barrow and a shovel went along Lord Street collecting the rich pungent harvest doing a roaring trade with the residents in London Street.
But one day he knocked on the door and asked the lady who answered if she would like a bucketful of horse manure and she asked how much? "A ha'penny a bucket, Missus," he said. "A ha'penny?" she asked in surprise. "You only charged me a farthing last week, why has it gone up so much?" (There were four farthings to a penny, kids.)
"Ah, well," said the boy sadly, "Some rotten beggar has pinched me shovel, and this lot is hand-picked!"
As the traffic increased and made crossing the road more difficult, it was decided to put a much needed pedestrian-controlled crossing between Marks and Spencers and the Co-op and, when used properly, this can be a boon on busy days.
I do get rather cross when I find people press the button and then do not wait for the lights to change colour, especially if they have children with them, for it teaches the children bad habits.
One day last week while I was waiting for someone coming out of the bank at the end of London Street I saw an elderly lady trying to cross the road at the corner.
She kept dashing into the road but as more and more cars came she had to hastily dodge back to the pavement for safety.
After watching her for a few minutes I went up and tapped her on the shoulder and as she turned I pointed down the road and said, "You may like to know that there's a pedestrian crossing lower down."
"Well, I hope she's having better luck than I am!" she snapped.
 First published in Life in Fleetwood issue 16, January 1992.
You can leave a response, or trackback from your own site.