A message from the Editor…

Hi there – I'm Nige Burton, and it was my privilege to own and edit Life in Fleetwood Magazine from the very first issue in the lazy, hazy summer of 1990, right up until its final issue in 2008.
The title came a long way in its 18 year history, but the high standard of journalism, and the commitment to preserving the history of our beloved town, was always something which I took great pains to maintain. I was lucky enough to work with some of Fleetwood's greatest historians and journalists – Bill Curtis, Viv Roberts, Catherine Rothwell, Peter Mummery and John Dover to name but a handful – and am proud to have published their excellent work throughout the months and years that they were part of my prestigious team.
When I look back through old issues today, I am inspired by the fact that our 'news' stories of many years ago have become historical documents in their own right. There are people we talked to along the way; residents whose life and stories we carefully preserved, who are no longer with us, but whose memories live on in the pages of the magazine.
For many years now, I have been approached by numerous people asking me what I intend to do with all that wealth of information and social history preserved within those very pages. Until now, lack of time and resources have compelled me to do nothing with it, save leave my collection neatly on my bookshelf.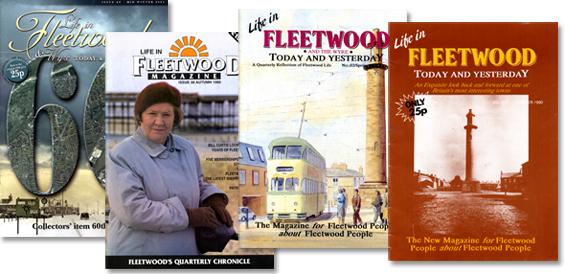 Many of the back issues are very rare, and highly prized and, what particularly struck me was the number of younger people asking me how they might obtain them. There are, in fact, very few issues left available for sale (although what there are will be made available through this site shortly) and so I came up with the idea of archiving them on a website.
A name change was in order – to simply call it Life in Fleetwood would imply that up-to—date news stories would be part of the make-up, whereas my deliberate aim was to include as many elements of the town's great history as I could. Initially, these are articles originally printed in the magazine, but this stock will be added to over the coming weeks, months and years. After much thought and deliberation, myself and my team thought the title Yesterday's Fleetwood was the most appropriate; this website hopefully does exactly what it says on the tin.
We have, in the main, transferred articles in their original format, with the first publication date and issue number annotated at the foot. So remember, if the story says "Such and such, 20 years ago…" you'll have to check the original publication date to find out exactly how long ago it was. Some of the earlier articles will, of course, now be heading for 40 years ago!
Obviously, this has been, and still is, a mammoth undertaking. We have populated the site with quite a few stories to get things up and running. Is it enough? How many is enough? – but we had to put it live at some time, so if your favourites are not up there yet, give it time. Most of the articles will be transferred eventually, so just keep checking back. If you have any stories or pictures to contribute, then please get in touch – we'd love to hear from you. It's our aim to make this the most comprehensive source of Fleetwood history available, and we need your help to make that happen!
A word about advertising…
In order to fund this huge project, we've made a limited number of advertising banners available on the site. Our soft launch of Yesterday's Fleetwood has already attracted huge numbers of visitors, and so these ads offer local businesses a chance to reach their target audience quickly and very cost-effectively. Once these are gone, they're gone, though – so if you own a local shop or business and want to take advantage of this offer, click here to discover how to do so.
Well, I think that pretty much sums up what we're all about. I hope you enjoy browsing through the site at your leisure, and that you'll feel able to become a part of this exciting project and make your own contribution. But most of all, I hope you have fun, exploring, perusing and discovering what a wonderful treasure trove of history our great town has as its – and our – heritage.
Warmest regards
Nige Burton
A note on images…
The images used throughout this site are all part of the collection from the Life in Fleetwood Magazine archives. Obviously, in many cases, these were provided as photographs, which have been carefully scanned to preserve them for all time. We have assumed that those people who gave us permission to include them in the printed magazines over the years will have no objection to us including them here. If you have, then please let us know and we'll remove them. If you haven't, but require a credit, then please get in touch and we'll be happy to oblige. Our thanks go to all those who provided material over the years, and we hope everyone can enjoy it for many, many years to come.