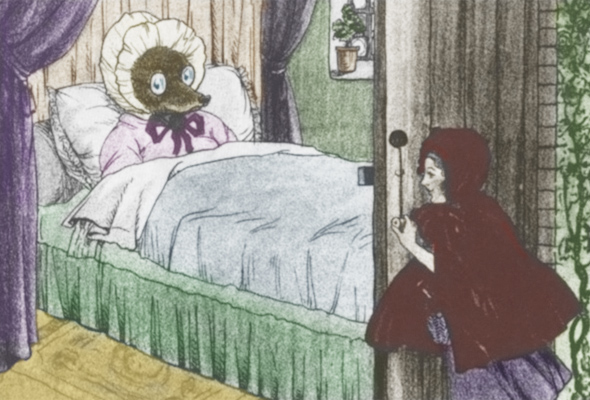 Oh yes it is! Fleetwood's first pantomime offers a glimpse into the past
Posted Wednesday 3rd September 2014
by Vivien Roberts
Over half a century ago – in January 1936 – Fleetwood saw its first panto presented by Chester's Stage Academy.
Little Red Riding Hood was chosen to launch this new venture in the Marine Hall.
Interesting information has come to light with the discovery of two panto programmes.
They were found by Mrs Bamber of Abercrombie Road, Fleetwood, and belonged to her late mother.
The beautiful programmes cover the first panto and the third – Babes in the Wood – presented January 1938.
It was on January 21st that Chester's pupils took to the stage to raise cash for Fleetwood Fishing Industry Benevolent Fund and Fleetwood School Children's Clog Fund.
Officials of Fleetwood Pantomime Productions included the Mayor, Alderman Capt C Saer with Mr F Wearden Secretary and Mr J W Dandy, treasurer.
Characters were played by Robbie McCaughey, Clifford Glass, Muriel Dewhirst, Betty Brown, Eric Bartlett, Arthur Pearce, Eva Brewster, Joan McMillan, Peggy Blaylock, Chic Chester, Roland Edge, Hazel Doreen, Margaret Atkinson, Alwyne Singleton, Marjorie McCaughey, Vera Hudson, Freda Newton, Jack McCaughey and Monica Hodgson.
There were speciality dances by Chesters Acro Imps, eight Irish colleens, 10 dainty maids and 16 Chester girls.
The panto was conducted by Miss Chester with Mr H Longworth conductor, Miss C Dunne accompanist, Mr J Wright stage manager assisted by Mr S Parish.
The wardrobe mistress was Madame Buttery who, with Mavis Bairstow, made the costumes.
Over 30 musical numbers were included in the production including favourites like "On the Good Ship Lollipop", "Olde Time Melodies", "My Old Man's a Dustman", "Moonlight and Music" and "Blue Danube" with "Teddy Bears' Picnic" providing the music for the Acro Imps.
In a letter in the programme, Mr H Stonestreet, secretary and treasurer of the local committee for the Relief of Necessitous School Children thanks the pantomime for their support.
He reveals that 20 years earlier a committee had been formed to raise funds to provide footwear for "necessitous school children in Fleetwood".
"About £150 is spent every year on behalf of children who would otherwise be compelled to go barefoot, or with footwear quite unsuitable for wet weather."
He said the money had to be raised by voluntary means and additionally many teachers devoted a percentage of their salaries to the fund.
The panto programme also reflects life in Fleetwood over half a century ago.
Advertisements tell the story – with houses on the Broadway Estate offered at £385 by the Poulton Road firm of Cryers.
Services for the home are well represented with electricity supplied by Fleetwood Corporation. Just switch on to lighting, heating, cooking, cleaning and power (no matches, no fumes, no smell!).
Furnishing for your home could be supplied by Elston's on the corner of Manor Road and Poulton Road, carpets by Rowlands of North Albert Street and Lord Street, pianos, radios, radio-gramophones, records and sheet music by Whites of Lord Street and curtains by AJ Priestley and Son (drapers, milliners and costumiers), of Lord Street/St Peter's Place.
Free insurance was on offer from Fleetwood Co-operative Society for purchasing members with 2,151 claims totalling £14,440 7s 1d being paid to December 1935. Co-op departments included coal, grocery, drapery,  baby linen, hardware and boot and shoe.
Other firms offering services included Chemists HR Woodhouse (Poulton Road), CSP Leadbetter (Albert Square), butchers W Armistead ("orders courteously solicited and promptly attended to") of Albert Square and Lord Street, F Michelbach, Lord Street, newsagents J Winstanley (North Albert Street), J Brooks at Wyre Dock ("fisherman's needs receive personal attention at all times"), photographer – Howorth's Studios, Lord Street, and cafes like the Devon Ice Cafe in North Albert Street. Heald's Cafe, the complete caterers' Burton's Cafe, the gold medallist confectioners and H Wright at the Liverpool Cafe, North Albert Street (noted meat and fruit pie shop).
Well known names such as Hodgkinsons (off licence); Collins (cycles); Yeo's (electrical); Great Grimsby Salt and Tanning Company; Brown and Jacksons; Walmsley and Oldham (plumbers); JW Fish (ironmonger); James Robertson and Sons (engineers); Keays Sawmills; Roger Eaves (builders); and the Mount Hotel all took advertising space.
And Fleetwood's main industry was not forgotten with a full page display by Fleetwood Fishing Vessel Owner's Association advocating "East more Fish" and offering to supply fishermen and dock workers with all their needs – oilskins, fear noughts, jerseys, sea boots, bests, boiler suits, etc.
Fishmonger Arthur Bellwood, "Fleetwood's fiddling fishmonger – you've seen me play the fiddle, see me sell fish at Fleetwood Market."
Harry Longworth and his Rialto Dance Band offered "cabaret or stage shows – scarlet and black uniforms, own amplification and all first class performers."
It's interesting to see in the 1938 programme Hearnshaws Stores, Fylde District Supply Company, Littlewoods Travel Service, Robert Ratcliffe (monumental mason), Ribble Motor Services, Fleetwood Net and Twine Company, "Bob's" sweet shop, Poulton Road, R Darbishire (electrical), Dickinsons Jewellers, Westheads (coats, gowns), AP Smith (electrical engineer), T Clegg (tobacconist), J Preston and Sons (painters, plumbers, ironmongers), Walmsley Jewellers and Marks and Spencers. An interesting insight to life in the town in the thirties.
Alas, times change!
First published in Life in Fleetwood issue 16, January 1992.
You can leave a response, or trackback from your own site.