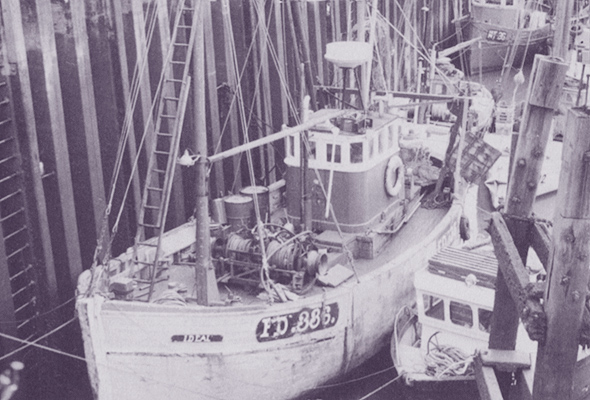 Offshore danger at Fleetwood – 3 fishing accidents in 1983
Posted Wednesday 11th June 2014
by Vivien Roberts
Looking out to sea from Fleetwood's Promenade on a nice sunny day makes it difficult for many to realise the dangers lurking off-shore.
Deep sea trawler disasters involving the loss of fishermen and trawlers have abounded around the coasts of Scotland and Iceland. But nearer home – in Morecambe Bay – danger is ever present.
During the first few months of 1983 three local inshore boats became casualties within sight of home. The first vessel – the Ideal – sank in January after hitting Wyre Light. Owned by Mel Pearce, she was left with her masts above water at low tides. They were later cut down to sea bed level.
In early April the Crystal became the second casualty and was towed into port after being saved from sinking. Described as the ship that refused to die, the 52ft Crystal was abandoned off Walney Island when she began to take in water. Her crew of 3 was snatched to safety in a dramatic rescue by the crew of the Dee Jay.
The rescuers answered the distress radio call from Crystal's Skipper, Albert Dicks. With crewmen William Wade and Albert Stockton he was pulled aboard Dee Jay as heavy seas lashed the decks.
Skipper Dicks revealed that his ship had been leaking for about an hour before they abandoned her on the way home from a fishing trip.
Involved in the rescues were Dee Jay's Skipper, Tony Cowell and crewmen Ronnie Blowers and Tony Harrison. Barrow Lifeboat was called to assist, but was not needed and later the Alant got a tow aboard the Crystal and brought her safely into port.
Several years previously Crystal was disabled and ended up beached at Fleetwood. In 1981 she sank after a collision with another vessel at the entrance to the docks and was salvaged. On another occasion she sank in Fleetwood Dock. "It is like a boat with 9 lives," said Mr Charles Wilson, Manager of fish merchants J K Hayton, agent for Crystal.
At the end of April the 58ft Stamila became the port's third victim of the year. She sank four miles from Fleetwood as she was being towed after getting into difficulties 30 miles out at sea. The 22 ton Polish built boat (Skippered by Mel Christopherson) developed engine trouble. The oil pressure dropped and she started taking in water. Aboard her was Skipper Christopherson, his 18 year old son Gary and crewman Mel Fairbanks.
Her radio call for help was answered by the inshore boat Ros Brighde (Skipper Leo Patterson). Later Skipper Christopherson said, "It looked like being a straight forward towing job but all of a sudden the pumps aboard just couldn't cope any longer and the only thing to do was for us to transfer to Ros Brighde.
"It was heartbreaking to watch her sink. I shed a few tears. She turned on her side and then nose-dived into the water. It was just like the films. Before she went down she seemed to stay vertical for about half a minute." He added, they were grateful for all the help given by Ros Brighde.
Stamila – 30 years old – had gained international fame when her Polish owner fled his country with his family to seek political asylum in Britain.
Three disasters – all within sight and sound of port – but thankfully no loss of life.
First published in Life in Fleetwood issue 45, summer 1997.
You can leave a response, or trackback from your own site.