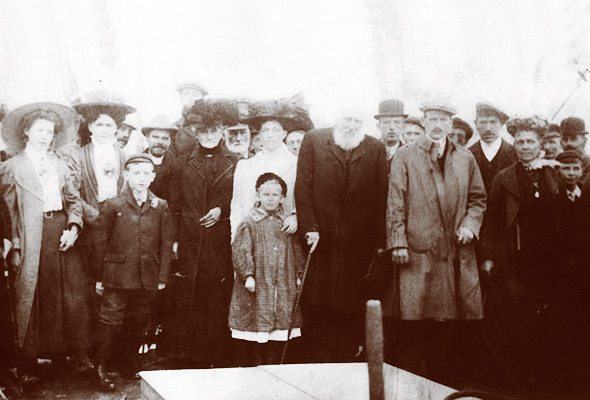 The launch of the Harriet, marking a new era in Fleetwood's fishing industry
Posted Tuesday 9th September 2014
by Catherine Rothwell
The picture above is a very interesting postcard of a group assembled at the launching of the fishing smack Harriet. The Reverend Samuel Horton, Primitive Methodist Minister, is amongst a host of Leadbetters, the family which, along with the Wrights, in those days controlled fish sales. Smacks such as Harriet and Surprise were launched from Fleetwood beach, Harriet sideways on, making a tremendous splash.
Pioneer Richard Leadbetter came from Marshside to Fleetwood in 1840 in a pony and cart with his wife Margaret and children. He became a wealthy, respected townsman, later building Onward and Margaret. Harriet cost £1,200 in 1892. Surprise II was built near Fleetwood Pier in 1910 and cost £1,600. Richard became known as Fish Dick. He died in 1916. His daughter Harriet married a Manchester bank manager but finally returned to the town she loved.
The patriarchal figure with the stick, I feel sure, must be Richard, but does any Fleetwood resident know?
Image and text © Catherine Rothwell.
You can leave a response, or trackback from your own site.