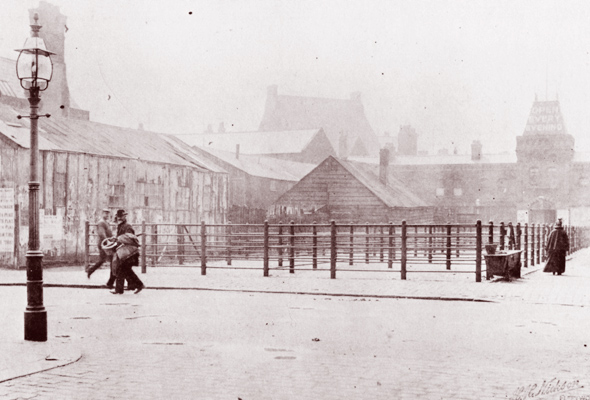 Fleetwood Market, popular with townsfolk and tourists for over a century
Posted Friday 24th October 2014
by Nige Burton
The market is one institution that has never lost its popularity and has thus proved a good source of revenue for the town. This postcard from 1908 has many interesting features, not least the pleasantly-designed gas lamp in the foreground which would now form a collector's item. The cattle pens were once filled with beasts brought across on the Irish boats. These have gone, as have the old wooden buildings, which were replaced with a market hall built of Longridge stone. The Whitworth Institute, with steep pitched roof and tall chimneys at its gable ends, became the Fielden Free Library.
'Open every evening' refers to the Queen's Theatre, which billed the celebrities of the day and where lectures and sometimes meetings were held. Land and market rights were eventually sold to the town for £6,750 in 1889, the Commissioners driving a hard bargain, for £500 of that for slaughterhouses.
 Image and text © Catherine Rothwell.
You can leave a response, or trackback from your own site.
One Response to "Fleetwood Market, popular with townsfolk and tourists for over a century"