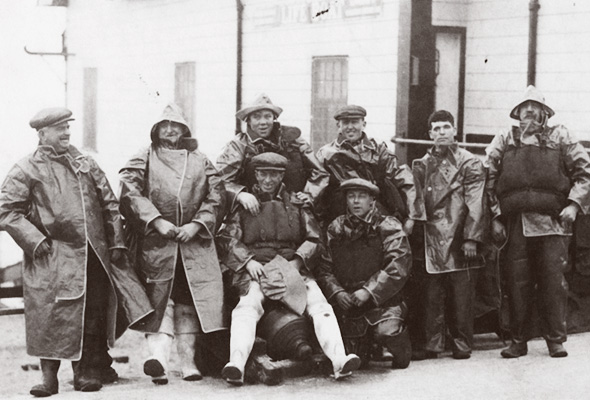 Fleetwood lifeboatmen, keeping our shores safe across the centuries
Posted Tuesday 9th September 2014
by Catherine Rothwell
Seated on one of Fleetwood's old cannons is Jeff Wright, amongst a group of cheerful lifeboatmen, from a postcard printed in 1933. Standing (left to right) are Dick Abram, 'Coosh' Bill Wright, Jim Leadbetter, Dick Wright (son of 'Coosh'), Sid Hill and Barry Bond. Alongside Jeff is Bill Houston. Leadbetters, Wrights, Wilsons and Rimmers, some of Fleetwood's earliest residents as fishermen, also played heroic parts as lifeboatmen. Robert Wright, coxswain for 16 years, helped to save 200 lives.
Jeff Wright served for 53 years, commencing at the age of 16, to become coxswain at 60. Jeff's last trip on the lifeboat was made when he was 69. His first craft was the Maude Pickup and he delivered the first motor powered lifeboat, Sir Fitzroy Clayton, in 1933, which may be the occasion of this postcard.
Image and text © Catherine Rothwell.
You can leave a response, or trackback from your own site.