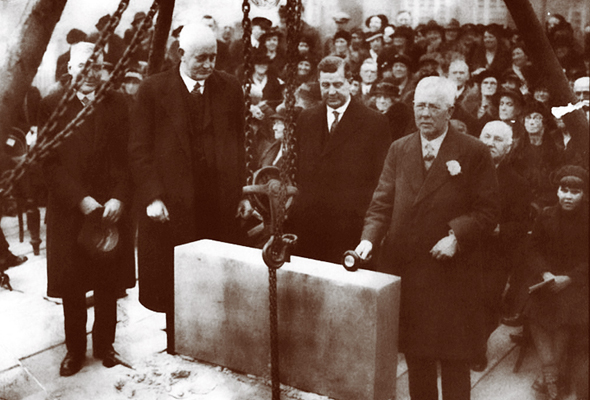 Memories of Fleetwood church life on both sides of the River Wyre
Posted Thursday 12th June 2014
by Catherine Rothwell
In 1837 there was no Congregational Church in Fleetwood. Early settlers had to ferry across the Wyre to attend service at the Bethel Church, Preesall until the Reverend W Gothard set up the first preaching place in a house in Flag Street where lived Mrs Garner, the sister of the Reverend D T Carnson. This little church of twelve members laster moved to a joiner's shop over a guano warehouse in Aughton Street. A Sunday School was started. Its first scholar was Alexander Davies who worked tirelessly for Congregationalism. Under the heading "Independent Chapel", The Fleetwood Chronicle of 9th November 1844 printed: "… the building of a chapel at the upper extremity of Warren Street and near to St Peter's Place." Lord Street was then known as West Street and East Street. The chapel was erected by Thomas Drummond on West Street, but work was seriously disrupted by the gales of 1847.
Young Mr Best, who was training to be a minister, attended that stone-laying. He wrote: "Great things were prophesied of Fleetwood, that it was going to be a second Liverpool. The people wished me to be their minister. I laid the foundation bricks of the chapel, twenty of them which Mr Drummond handed to me, one frosty morning. That was the only foundation stone ceremony lasting ten minutes, two persons being present, and ending in a Hurrah!"
The new chapel with its castellated tower cost £1600 and opened on 31st May 1848. "The church was fitted up with gas and heated with hot air at considerable expense," wrote the first minister, John Farnham Guenett. Fifteen shillings was paid "to defray the expenses of the fiddle."
Mr Lings, who died on 20th January 1900 at the good old Fleetwood age of 90, was called "the Grand Old Man of Fylde Congregationalism". Another well known minister was Amos Bailey who, on one of his visits to Over Wyre, was stranded on the wrong side of the river. "I had gone over to take the afternoon service at Bethel. At 4 o'clock a gale, bringing with it a pitiless downpour, had changed the whole face of things. The sea was raging… no sign of a boat. For two hours I stood on the sea wall hoping that an attempt would be made to fetch me – but in vain. Nothing remained for me but, drenched to the skin, to find my way home in the darkness. Fifteen miles via the nearest bridge up river!"
They were wonderful people, our ancestors.
First published in The Fleetwood Annual, 1998.
You can leave a response, or trackback from your own site.